Electronic Money Bank Code Armored Hummer Car(Fits All Kinds Of Paper Money And Coins)
Coolest and Safest Armored Money Bank Car

Looking for a new and coolest money bank?
With this unique armored shape kids money bank, your little one can store money he earns doing household projects, making sure he's starting to save early.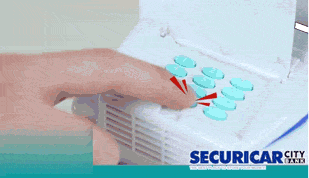 The lights will flash and the bell rang when you press the number button. Two Languages can be chosen. Your kids will love placing money in their new car truck coin bank and watching their savings grow.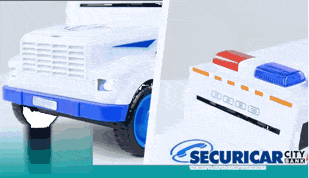 Paper money can be rolled into the machine automatically when you put it on the Scroll. Hidden password button in the front cover of a car, funny design that appeals to your kids' attention. This car banks can also roll like a toy car, allowing your child to experience the fun of saving money.
FEATURES
✅ PIGGY BANK SIMULATION STRONGBOX FUNCTION: password input, fingerprint recognition; Car bank could store coins and banknotes (dollar bill, cash) Put coins to deposit coins into the car from the roof hole. Depositing banknotes at the entrance, the entrance device automatically wraps the banknotes into the body.; our car piggy bank could teach a child to save money at the same time have fun. (NOTE: the piggy bank will not work if the case is too old or too soft.
✅ COOL LIGHT DESIGN: Simulated police car cool lights press the lights will move, play more interesting when kids collecting money.
✅ ANALOG SAFE (fingerprint function): Enter the correct password, touch the simulated fingerprint to identify the automatic door opening; Change the password: when the cabinet door is open, press and hold the " * " key to enter the new password. After inputting, press and hold the " # " key to confirm, you can set the password for completing the heart. ( When you forget your password, you can take out the battery and let it restore the factory password to four zeros.)
✅ AMAZED GIFTS FOR KIDS: It could be car toy and piggy bank; Really perfect birthday gifts or Christmas presents for kids and let them collect the money have fun.
✅ HIGH QUALITY: with high quality, powered by 3PCS AA battery (not included)
SPECIFICATIONS
✅ Material: ABS
✅ Age of use: more than 5 years old 
✅ Battery type: 3 x AA battery
✅ Product weight: 800g / 1.76lb 
✅ Dimensions: 30.3 x 15.4 x 15.2cm / 11.93 x 6.06 x 5.98 inches
PACKAGE INCLUDES
✅ 1 x Car shape password piggy bank
✅ 1 x Mini screwdriver
✅ 1 x User's manual